A Look at the 25 Best Golf Courses in the U.S.
America is home to some of the most gorgeous and challenging Golf Courses ever created. Whether you're looking to put your game to the test or find the ultimate green getaway, these 25 courses have everything a golf enthusiast could desire.
1. Pebble Beach, California
A number one on several lists, Pebble Beach combines the best aspects of land and sea in America's most extensive course. Nine of its holes rest just above the crashing waves of the Pacific Ocean, with others sitting atop 75-foot high bluffs and ocean coves.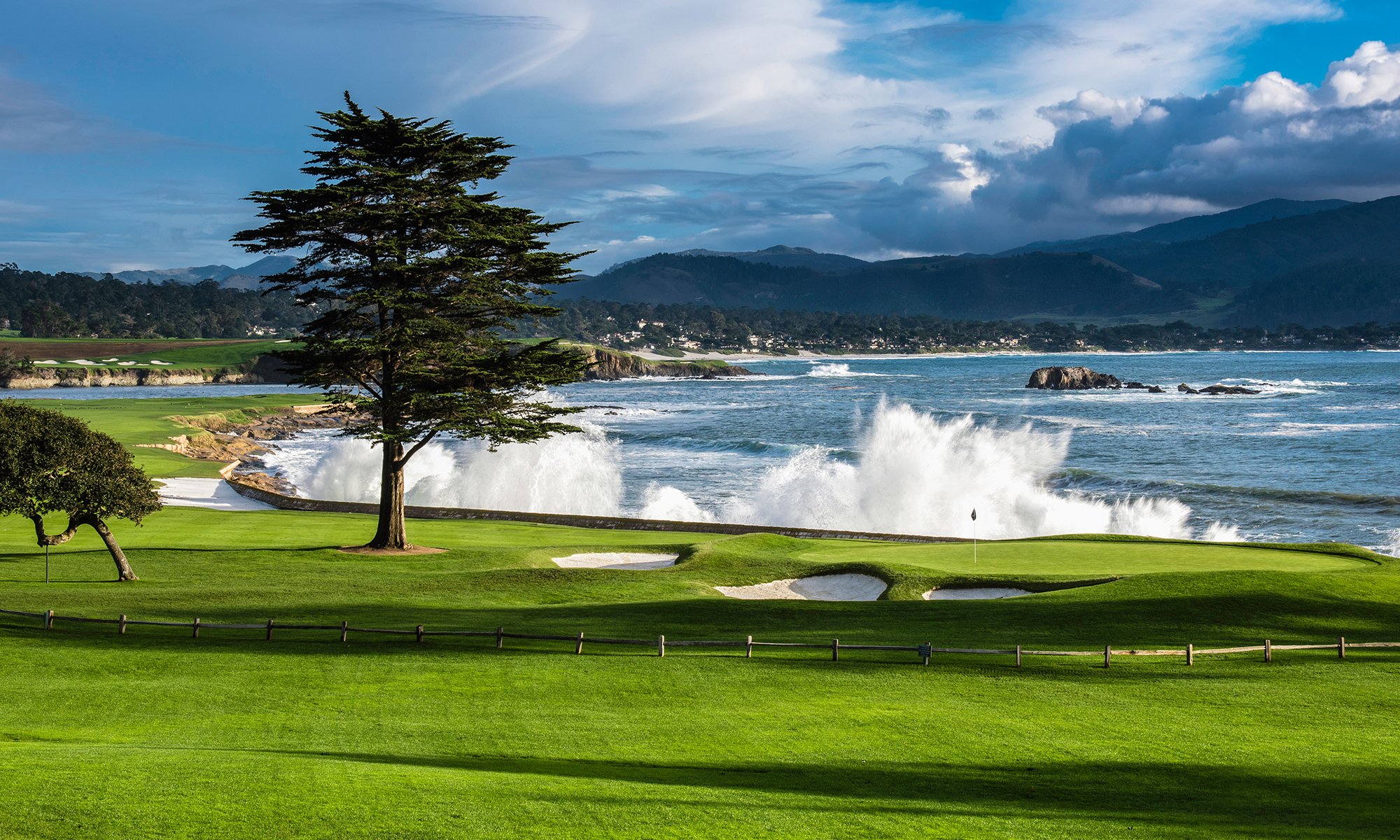 2. The Ocean Course, South Carolina
Designed for the 1991 Ryder Cup, The Ocean Course is a human-made system of lagoons that find their home next to three miles of the Atlantic coastline. Brimming with sawgrass edges, complicated slopes, and bordering dunes, this is a trial of champions. Best of all, the fairways and greens sit just high enough to offer the perfect oceanic view.
3. Whistling Straits, Wisconsin
Previously an army base, this two-mile stretch of Lake Michigan into luscious greens. Covered in over 1,000 bunkers and transplanted Irish links, even the pros struggle with this one. You can test your swing on this par 72 course or watch how touring athletes do it during the 2020 Ryder Cup.

4. Shadow Creek, Nevada
Rough then sweet, high then low, infuriatingly puzzling then blissfully graceful; Las Vegas' Shadow Creek is a whirlwind of a course. Every piece of this over the 7,500-yard course is expertly designed to deliver both challenge and relaxation. While this used to be a private course back in the early '90s, it stands open to any avid golfer today.
5. Bandon Dunes, Oregon
Bandon Dunes has been named not only best but one of the most fun of America's courses multiple times over. Skilled shooters enjoy the visually mesmerizing and challenging landscape offered at this Oregon course. This par 72 plays off of the natural landscape to deliver a true test of your game.
6. Bethpage Black, New York
If you remember this course for its grave-like bunkers and numerous trees, then prepare for a new era of Bethpage. All 7,468 yards have been turned into greens worthy of the U.S. Open and PGA Tour, and the level of difficulty reflects that. If you're up to the challenge, head online to set aside tee time.
7. Old Macdonald, Oregon
A second popular course at the Bandon Dunes Resort, Old Macdonald also utilizes the area's natural landscape to deliver a fun challenge. This course features more sprawling greens with encapsulating hills as well as royal blue tee markers to make things easier for beginners. You can imagine what early pioneers might have experienced when traveling west while playing 18 holes at the same time.
8. TPC Sawgrass, Florida
Features of this 1980 design have been imitated for decades due to the challenging precision shots the course demands. Most famous is its 17th hole which sits on an island green, offering no bailouts in the unforgiving Atlantic winds. Its demanding holes are hidden amongst gorgeous scenery, making this a must-play course.
9. Blackwolf Run, Wisconsin
Along the Sheboygan River sits Blackwolf Run, a course that has ranked in the top U.S. golfing experience for decades. It features multiple options for reaching single holes, lagoons, and incredibly designed shots sure to entertain even the most experienced golfer.
10. Streamsong Red, Florida
A combination of target precision and bump-and-run shots, this course is a sandy paradise ready to test your game. Complete with 75-foot dunes, multi-level greens, and water holes, Streamsong Red is as exciting as it is beautiful. Best of all, you can walk this entire course easy.
11. The Pete Dye At French Lick Resort, Indiana
Spanning over 8,000 yards, this mountain course will either you leave you feeling confident or heading into the thick of its forests. Despite the terrain, the course is easily walkable and playable. Even Dye himself enjoys the challenge.
12. The Prince Course, Hawaii
A recent makeover now gives Prince a better view of the Pacific Ocean and volcanic mountains of Hawaii while cutting back the jungle for added playability. The sloping hillsides lead down to the shore for a one-of-a-kind experience that offers a mild challenge and the utmost in relaxation.
13. Chamber's Bay, Washington
Chamber's Bay features rugged turf, a challenging landscape, and enough wind to throw even the most professional player's game off. It takes determination to reach the finish line, especially with the deep bunker found in the center of the 18th hole. Despite the hardships found on this course, players come back time and time again to perfect their game here.
14. Forest Dunes, Michigan
Exceptional turf lined with pine trees, porcelain white sand bunkers, and tricky pin positions are the main draws of Forest Dunes. This Michigan locale is half human-made ingenuity, half natural perfection. You'll find both challenging shots and an encapsulated getaway within the greens of this course.
15. The Omni Homestead Resort Cascades, Virginia
A rare par-3 18th hole is just the beginning of what makes the Cascades unique. Cross bunkers, a topography that harkens back to the early days of the game, and rarely seen slopes define this Virginian course. Ranked in Golf Digest's top 100 for over 40 years, this is easily on the best the U.S. has to offer.
16. The Highland Course at Primland, Virginia
High atop the mountains of Virginia rests The Highland Course, which overlooks an unusual river valley filled with spiral rock formations. The greens and bunkers are kept plain to offset the natural difficulty added by the mountain setting, but this course remains a par 72. It is considered one of the best mountain courses in all of the U.S.
17. The Quarry at Giant's Ridge, Minnesota
It is highly advised that you work on your aerial game before attempting to tackle this course. The Quarry features an inventive mixture of backboards, speed slots, and reverse chambers. Throw in a few multi-route holes, and this course will test your mental prowess on its green.
18. SentryWorld, Wisconsin
This course was and is known for its highly decorative hazards. Petunias, snapdragons and other annuals act as lateral hazards that are sure to swallow at least one of your shots. Recently redesigned by Trent Jones Jr. and Blasi, the almost Wizard of Oz-esque SentryWorld now offers the level of difficulty it should have since 1984.
19. Pronghorn Club's Nicklaus, Oregon
The stunning scenery, including picturesque mountains and luscious forests, of Nicklaus, have only been open to the public roughly for roughly five years. The first half of the course is a luxurious playthrough, while the second half amp up the challenge.
20. Gamble Sands, Washington
Resting on a high sand plateau that overlooks the Columbia River Valley, Gamble Sands was designed to be larger than life and a fun time for all. The landscape offers bends and turns for a slick hole in ones as well as multiple-option holes that all feature wide fairways. Add in panoramic views in each direction, and it's easy to see why this is such a top-ranked course.
21. Fallen Oak, Mississippi
Built into the rolling forests and wetlands of Mississippi, Fallen Oak comes from the same mind that built Shadow Creek in 2005. Since then, this casino course has attracted hundreds of thousands to its naturally challenging landscape. Complete with sinking dunes and bumpy hills, you might just find your game put to the test.
22. The Harvester, Iowa
The Harvest is designed to mimic the qualities found in classic courses from decades past. You'll find emerging holes, delicately crafted angles, and the crisp-edges that made previous generations of golf so enjoyable. Best of all, this Iowa course is continually ranked one of the most affordable.
23. The Prairie Club Dunes, Nebraska
Playing on the natural hills found in Nebraska, this course's apt name tells you exactly what you need to know. Winds sweep over the treeless hills as broad greens mingle with amber brushes, and the view goes on for miles. You'll need to hit precise angles and use the unique landscape to your advantage if you want to stay under par.
24. CordeValle, California
CordeValle was once a private club, its low-rise hills, and oak trees reserved for those staying at the resort. After hosting a U.S. Senior Women's Amateur, Women's Open and PGA Tour Open, the course opened its doors to the public. There's green for miles here, but the water and sand make for formidable foes.
25. Bulle Rock, Maryland
Once the home of thoroughbred racehorses, these luscious greens were converted to one of America's most beautiful courses. Bulle Rock features nearly 300 acres of nothing but nature and golf. It's designed offer the challenge that experienced players desire, but this upscale round of 18 holes is mostly enjoyed for the peace and quiet it provides players.